Dynamic Island Android APK is available to Download for your Android Smartphones. Yes, Now you can do multitasking and get iPhone look and feel in your Android device by just installing Dynamic Island Dynamic Spot Pro in your device. Dynamic Island App is available to download on Android from 2 Popular Developers jawomo and gricemobile. Here we are going to give you Access to Dynamic Island APK that you can directly download and install in your Android Smartphones.
After seeing Interesting Dynamic Island Feature in iOS, Android Developers started building an App which can do similar activities on Android Phone. Finally Dynamic Spot Application came into limelight by jawomo. Dynamic Island App for Android is just launched and following its crazy demand from android users, It has crossed almost 1M Downloads.
With Dynamicspot | Dynamic Island App you can easily get iPhone 14 Pro's Dynamic Island feature of your Android Device. It gives you Dynamic Island Mini Multitasking Feature, Makes it easier to access Notifications or Phone Status Changes. Just Tap on the Little Black Dynamic Spot / Popup to Open the Displayed App, Long Press the black popup to expand it and view more details.
Dynamic Island APK | Dynamic Spot Pro Features
Allow Popup Option Added, Message arrives and it gets Bigger!
Popup Auto Expand Feature Added
Music Visualizer Activated (Fixed)
Also See How you can Use the Dynamic Island APK and use Features in your Android Smartphones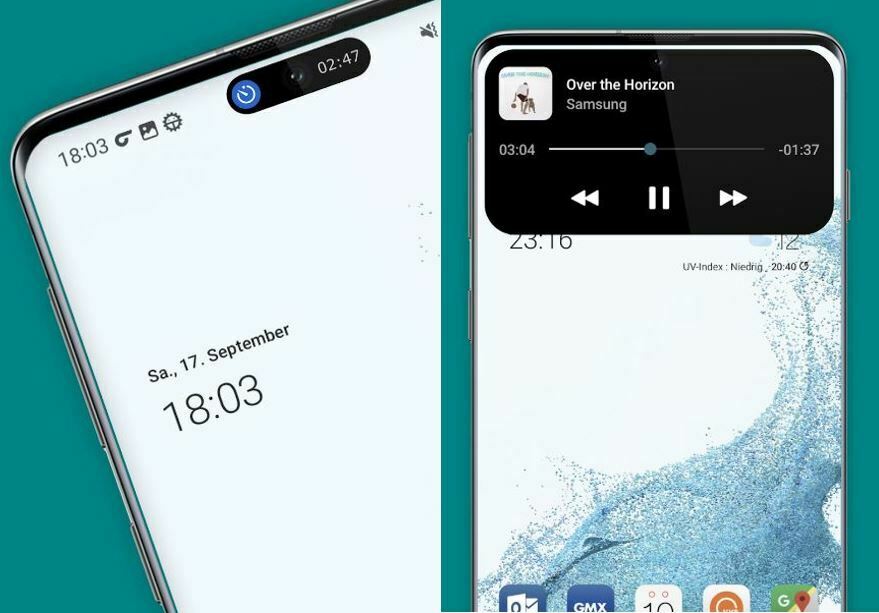 Install Dynamic Island APK to your Smartphone
Turn ON the Dynamic Island Feature
Allow Full Phone Access Control to App on your device
Turn ON Notification Access for the App
You can Also Turn ON or OFF Quick Reply Option
There are More Options to Customize like Volume Control through Gesture
The Most interesting feature is, It allows you to do Multitasking by Short Icon View on Top
Here it Is – Dynamic Island APK for Android (dynamicspot)
Dynamic Island APK – iOS 16 – GriceMobile
Apart from 'jawomo' developer, The Dynamic Island App is also available from 'GriceMobile' developer. Also their App got 1M+ Download. Lets have a look at Feature they provides in their App.
It also bring iPhone 14's Dynamic Island feature to your Android Smartphones. They also promises the App show a dynamic view to make the notch on your smartphone friendly and useful like iOS 16. It makes your front camera more beautiful.
Here it Is – Dynamic Island APK for Android (GriceMobile)
Requirements for Dynamic Island App
To Install and Use Dynamic Island Apk you need to have following basic requirements in your Android Smartphones.
Android Version 6.0 and Higher
Center Punch-Hole Display
Dynamic Island Android APK – Supported Smartphones
Dynamic Island App is supported in All Latest Version of Android Smartphones including Samsung S Series, A Series, M Series, Samsung Galaxy Fold, Flip Series, Samsung Galaxy Note 20 Ultra, Note 20, Note 10, Note 10+, Note 10 Light, Samsung Galaxy A51, A52, A52s, A53, A71, A72, A73, Samsung M Series Smartphones M51, M52, M53, M62, Samsung Galaxy S20 Plus, Samsung Galaxy F62, S10 Light, S20, S20 Ultra, S21, S21 plus, S22, S22 Ultra, S22 Plus and Samsung Galaxy Quantum 2 devices as well.
Dynamic Island APK also supports Xiamoi, Redmi, Poco Smartphones devices including Xiaomi Redmi Note 9 Pro, Note 9 Pro Max, Note 10, Note 10 Pro, Note 10 Pro Max, Note 11, Note 11 Pro, Note 11 Pro Plus, Note 11 SE, Note 11T, Note 11T Pro, Note 12, Xiaomi Redmi 10, Redmi 10S, Redmi 10 Prime, Xiaomi Redmi K40, K50i, K50 Ultra, Xiaomi 12 Pro, 12 Lite, 12T Pro Ultra, Xiaomi Mi 10i, 10, 11i, 11T Pro, 11X Pro, 12, 12X
It also runs smoothly on Google Pixel Smartphones including latest models Pixel 6, Pixel 6A, 6 Pro, Pixel 7, 7A, 7 Pro and Pixel 8, 8 Pro.
So, Download the Latest Version of Dynamic Island APK for your Android Smartphones and Enjoy Multitasking and Cool Features like iPhone 14 Pro in your Android Mobiles. Dynamic Island Mod APK is available for Any Smartphones which runs on Android as mentioned in a list above. Enjoy!