Noida Based Indian Company Ringing Bells Private Limited Leaves everyone Shocked after Announcing the World's Cheapest Smartphone Ever. They named it Freedom 251. It was out for sale on 19th February and offering the Smartphone at impressive Price of just 251 Indian Rupees. Many People wake up early in the Morning to get the Smartphone first. Some of them Booked it and By the time Site Got crashed by 6 Lacks real time Users.
As Multiple Users was accessing site at the same time, none of them managed to make a Purchase and later company suspended the Selling and continued on very next day. But now Before Making the Purchase you need to check if it is Legit or Just a Scam.
Many Information Sources Around the web Claims such thing as Fake and Professionals tried out their best to collect the Information for Freedom 251. In fact They did Total Postmortem of Nodia Based Manufacturer company.
Freedom 251 Specifications:
Look at the Impressive Specifications Smartphone Makers Offers
The 3G handset
Display – 4 inches qHD IPS
OS – Android Lollipop 5.1
Processor – Qualcomm 1.3-GHz quad-core
RAM – 1 GB
Battery – 1450 mAh
Camera – 3.2 MP rear and 0.3 mp Front facing
Internal Memory – 8 Gb (Expandable upto 32 GB)
These Proofs Makes you Think Twice if Freedom 251 is Fake or Legit ?? (You must know)
Here we did Total Postmortem of Newly launched Freedom 251 Smartphone and Founds something Interesting which gonna makes you think twice before clicking Pay Now Button. Read the Full Proof Reports we found on about the Freedom 251.
Many Online Information Sources Claims it as Fake or Fraud or Scam by Company. Read the Hidden Facts below.
1) Ringing Bells PVT. Ltd not Listed Product on their Official site –
Company not showing anything about Freedom 251 on its official website. http://www.ringingbells.co.in/
2) Ad Com Denies it is Manufacturing the Freedom 251
"We have no idea that our branding is being used on the Freedom 251," Adcom's marketing head Deepanjali Arora told HT. "We will look into this."
3) Longer Shipping Time – 4 months (Made in India ?) (Source: HT)
When you make Purchase on the Site it shows the Shipping time of almost 4 months means product gets delivered to you by June 2016. But HT Collected some Proof which makes difficult to believe that it is made in India.
The front of the Freedom 251 is emblazoned with a shiny brand name that says Adcom. In the phone that was sent to HT, this logo was covered up with whitener.
A quick Google search revealed Adcom is a New Delhi-based importer of IT products. This particular model is listed on multiple e-commerce websites including Gadgets360, Amazon, Snapdeal and Shopclues for approximately Rs. 4,000.
When HT got in touch with Adcom, the company's marketing head denied any knowledge of Adcom's logo being used on the device. "We have no idea that our branding is being used on the Freedom 251," Adcom's marketing head Deepanjali Arora told HT. "We will look into this."
4) Copied Apple's iOS Icons – (Source: HT)
Phone manufacturer Claims it is per-loaded with Govt. of India Apps like Swatch Bharat, blatantly violates Apple copyright. Yeah, You read that right. All the Icons of the Built in App are Pixel to pixel copy of Apple's iOS Icons.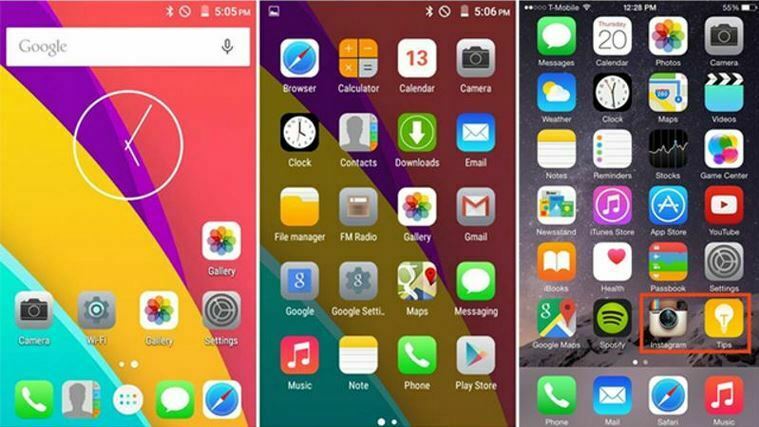 When the Hindustan Times asked the company about possible Intellectual Property Rights (IPR) violation, Ringing Bells technical head Vikas Sharma said: "We used Apple's icons because Apple hasn't copyrighted its designs." Which is not true because of Apple has Patents for everything including the rounded edges, screens and icons as well.
On a page on intellectual property on its website, Apple clearly states: You may not use the Apple Logo or any other Apple-owned graphic symbol, logo, or icon on or in connection with web sites, products, packaging, manuals, promotional/advertising materials, or for any other purpose except pursuant to an express written trademark license from Apple, such as a re seller agreement.
Ringing Bells declined to state whether the company has a license from Apple.
5) Not going in Professional way –
Company Website Design is not Professional and they didn't have Professional developers team, Site showing many Bugs. See the Example of Bug below. They are not Using the Proper Secured layer. means anyone with wrong intention can hack the website and gets the Personal information from Thousands of Buyers.
Some of the Bugs they managed to Fixed it out.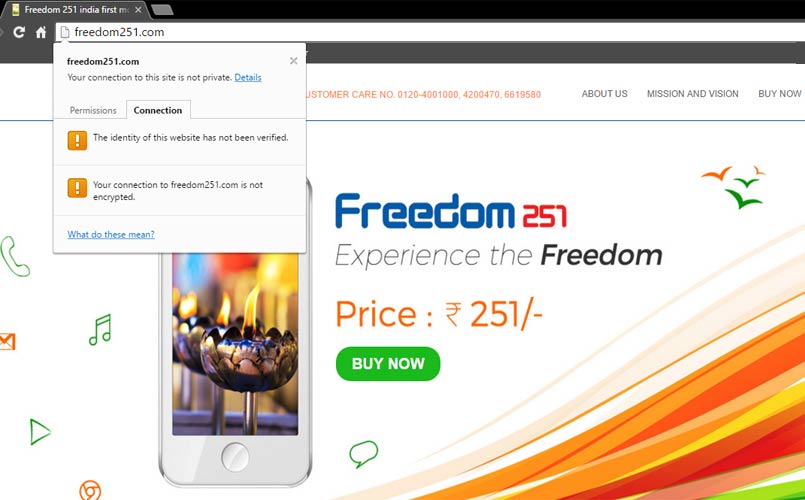 6) Website is just 1 Week old –
We Look more Closer and Found the Website is Only 1 Week old shows the Quick Creation and also Domain is registered for One year which makes validity suspicious.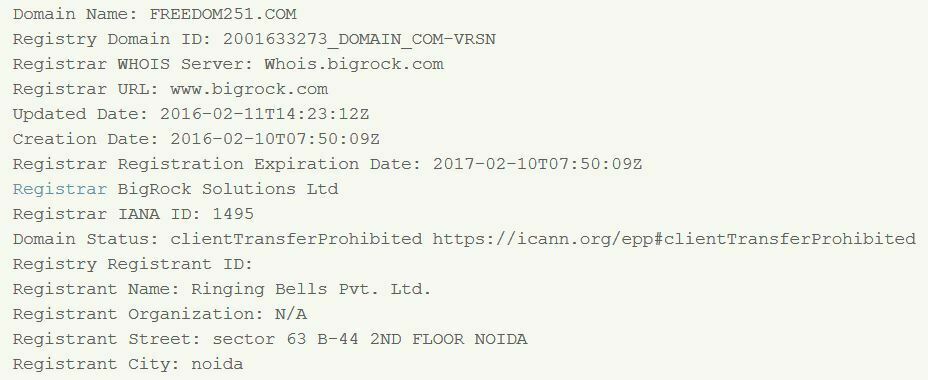 7) They Promises Android 5.1 at just 251 –
Even Company Manufactures all the Parts in India they need to Pay more to get the Android 5.1 Lollipop which is based on US.
8) BJP MP Kirit Somaiya took Action Himself on Freedom 251 –
"This is a huge scam, that is why I went through all the papers of the company. The government has informed the Uttar Pradesh government to check the bonafide of the promoter. This is a Ponzi bogus company scam," BJP MP Kirit Somaiya told ANI.
#Freedom251 not subsidised/certified/registered by Govt Agency-Ringing Bells Pvt Ltd formed on 16/9/2015 @ Delhi pic.twitter.com/gkqkss9gOc

— Kirit Somaiya (@KiritSomaiya) February 18, 2016
#FREEDOM 251 mobile set @ ₹251 #TRAI Chairman & Telecom Ministry assured me appropriate step Buyer must check twice pic.twitter.com/zqdY03cZXm

— Kirit Somaiya (@KiritSomaiya) February 18, 2016
Not only this. You can Also Check out the Serious Discussions here –
http://www.consumercomplaints.in/ringing-bells-b115124
https://www.reddit.com/r/india/comments/466ky6/is_freedom_251_a_scamnp/
You can Submit your views in comments about the newly Launched Freedom 251.