Facebook always loves to change and that is the core reason people loved the Facebook more than other social networking site. Facebook is testing feature on mobile let it allows users to choose the friends and pages they want to see on the Top of the news feed, so they don't miss the important update.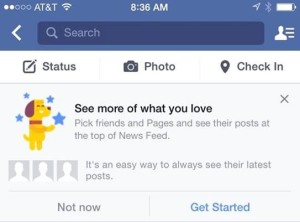 Facebook newly launched feature is not available to all the fb mobile users but its been prompted for some of the users which shows the "See more of what you love." with detailed help message "Pick friends and pages and see their posts at the top of New Feed". When you get started, it leads you to the list of pages and friends and allows you to select and give it priority. This selected person and pages get higher priority than other list of people and according to Facebook algorithm update for mobile users, it'll shows the each post first from the selected list.
Facebook confirmed the Test to socialTimes but didn't mentioned how it works. Mobile users some time miss the important sharing as they had the lots of friends and pages connected to account. So Facebook rolled out the new feature which allows let users can give preference to the person or pages to appear first on news feed. See the Image displayed above how its been appear and tested by Facebook mobile. It'll helps millions of people across the globe to catch the necessary update first on their busy an faster life. Its boon for those who checks Facebook for important updates.
Image Credit: socialTimes