Google Plus having the new feature which allows to backup the photos and videos on the Google cloud. You can backup your photos and videos from your mobile or computer to the cloud and it'll be visible to you only until you specify to share with others. So if sometime you lost all your mobile or desktop photos and videos, you can get it back from the cloud.
Auto Backup For Desktop:
Latest version of Picasa for Mac and Windows contains the GPAutoBackup.msi inside the Picasa folder. Download the Picasa on your computer and find the Msi installer file on the Picasa folder. Install that file and Picasa Auto backup utility runs in your startup. Sign in with your google account and backup all your computer photos and useful videos on cloud. Backing up process runs automatically in background.
Auto Backup For Mobile: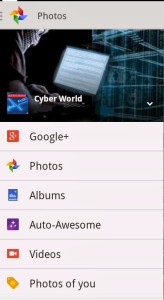 If you have Android mobile and want to backup all your mobile photos and videos on the cloud, so if you lost all data from mobile then you can get back all that photos and videos back from the backed up data. For that Download the Google+ Application software for your mobile from Play store.This will install the Google Plus and also install the backup photos utility which allows you to store high resolution photos and videos on cloud after turning on the backup. You can turn sync-on to automatically backup photos from your mobile. This all photos by default visible to you only. You can further share photos with others also. This backup application also add auto awesomeness to your photos to be viewed as the best.
Start using Backup utility and start backing up your memorable photos and videos on the cloud. Google provides 15 GB free space to store all your data. Cloud stores all your data in safe and give it to you when required and will be available to you anywhere.
Happy Cloud Syncing