Lenovo's newly launched A6000 Plus and A7000, multimedia devices got marvelous feedback on the Flash sale. Smartphone manufacturer sold out lots of devices through flash sale via Online retailer site Flipkart and now following the demand and love of public, Company announced the Open sale of Lenovo A6000 Plus Affordable smartphone.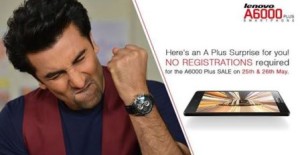 Recently company share it on its Social network that "You guys have made the A6000 the most popular selling 4G phone last quarter, Thank You, we are hosting an OPEN TO ALL A6000 Plus SALE from 25th-26th May on Flipkart! NO REGISTRATIONS REQUIRED. Are you ready? ", So its not the Flash sale but its open to all.
Its Plus surprise for all the Lenovo A6000 Plus fans. Lenovo A6000 dual sim smartphone is popular just because of the impressive price and features. Also Follow the A6000 Plus Specifications to make the quick decision before purchase. Go to the Flipkart for the Open sale.
Lenovo A6000 Plus Open Sale date – 25th & 26th May
Note – No Registrations required.