Xiaomi India's Trending fitness tracker Mi band got overwhelming response on the First Flash sale and sold out 1000 mi bands in just 7 seconds. One more time Xiaomi's Mi Fitness band got amazing response on the Flash sale. Company sold out all the bands in just 22 seconds on its Second Flash sale on 12th May. Company started the selling of the band on official Website of Mi India. After the success of the second flash sale company announced the next flash sale registration.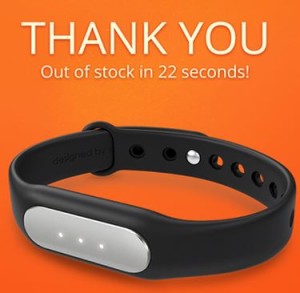 People greatly appreciated the Mi band because it has the Trending features available at the affordable and lower price tag of Rs. 999. Company traced out the demand in Indian Market and up with flash sale. Mi Band specifications are quite impressive at minimal cost. It also has the display which shows the physical movements you did and calories you burnt. Additionally it has the Sleep cycle alarm and function to get alert on your important calls and never miss the valuable calls.
Mi Band 3rd Flash sale Registrations
Registration Starts on – 13th May 2 PM
Registration Link – Mi India
Hover to the Mi India official site for the next sale and make the Full fledged Mi Fitness band yours at affordable price range.