Much awaited Micromax Calvas Laptab launched week back with specifications and scheduled for the Amazon India release. Now finally wait is over, Micromax Canvas Smatest Laptab ever, listed on the Amazon India site and up for selling at the price of Rs. 14,999 in country. Its the hybrid device which gives the Laptop and Tablet experience on the go. Light weight 9.2 mm sleek body canvas laptab weigh 1.1 kg and has the dimensions of 259.2*175.4*9.2 mm.
Micromax Canvas Laptab provides the connectivity on the Go with Internet dongle and WiFi access. It also has the Bluetooth 4.0, 2 USB slots (1 Micro USB and 1 USB slot) and 3.5 mm headphone pin out. Micromax canvas laptap offers the 10 hours of battery backup with 7700 mAh battery capacity. You can attach the Full fledged chicklet keyboard with Track pad and enjoy the speedy typing with latest windows operating system. Explore the Micromax Canvas Laptab specifications and Get more inside about the smartest gadget by Micromax.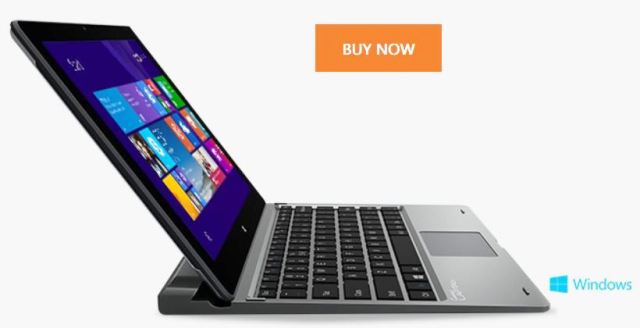 Micromax Canvas Laptab Reviews:
After getting the device Menu users gave the in depth reviews on Official Amazon site as mentioned below. Also follow up the Pros and Cons reviewed by the Users of Micromax Canvas Laptab.
1) My first hands on experience of the Micromax Canvas Laptab was at a bloggers meet hosted for the launch of the event.
I for one found the device to the very handy and portable and not like other bulky devices in the market. The design is amazing and the fact that it doubles up as a tab makes it possible for my entire family to enjoy it.
I am personally very… Laksh Gupta
2) nice product specially at this prize
I experienced this product at the bloggers meet …nice product specially at this prize .I also played some games like asphalt 8 performance was quite amazing.looking forward to buy this.. yogesh sharma
3) I have used this device for the first time at the time of the launch. Overall very good product. Some of key features are faster bootup and data access, Intel Atom processor, long battery life, Pre-installed Windows 8.1, Multi-Touch IPS HD display…Sushil Chopra
4) Go for it!
Amazing product in this price range. Very handy with a very nice feature of a detachable keyboard. Keypad feel is also nice. Dual speaker is an advantage for this laptab in comparison with other product in the category…Sahil Sharma
5) Nice specifications. Love to use it. Great processor and yes windows 8.1 is awesome..
Ayush Srivastava
6) Beauty and the beast
I am eagerly waiting for this laptab. This product can beat single-handedly with its portable-unique features (not to mentain 3g slot, 10hr backup, detachable screen) but in this price range its great deal.Even if its of 20k. I will go for it….Prashant gaur
7) Five Stars
So nice product at low price they gave so many things..deveshwar bansal
8) A truly mobile laptop !!
I am really waiting for this device to be available…As per the details shared it looks to fulfill all my needs for a truly mobile computing device !! Just found a detailed review of the device. Wow another great review link
9) Gaurav Singh… Customer reviews (Pros and Cons)
So guys lets discuss pros and cons
pros:
1. Very portable
2. Long battery life
3. Nice combination of tablet and laptop which makes LAPTAB
4. 3g sim enabled
5. Good gaming experience
6. Very reasonable in price
cons:
at this price i guess cons factor hard to find.
so guys go for it .
Its interesting that As of now we got only positive talks all around about the Micromax Canvas Laptab. People reviewed it as the Best Smartest Laptop cum tablet product ever, which is available at cheapest cost of Rs. 14, 999 in India. If you want to Buy the Micromax Canvas Laptab from Amazon India, Click the Amazon link mentioned below to hover to the product page. If you already used the laptab, let us know your true words in comment sections below.