Worldwide popular social networking giant launched Facebook video calling feature for the Facebook Messenger. Stan Chudnovsky, Head of Product for Messenger and Param Reddy, Engineering Manager announced the Most demanded feature for Facebook messenger. Facebook messenger users growth indicates the users fine tuning with the applications. Facebook introduced the face to face voice calling feature, let you can enjoy the conversation and feel like real physical presence of the remote person. Facebook also integrated the Whatsapp into the Messenger to allow easy sharing between both widely used mobile messaging platforms.
Google already has the Hangout feature, people can enjoy the video calling. Skype is one more popular service people enjoying for direct face to face talking. If you are talking to someone by typing into the messenger and don't want to type lot more words in the Messenger, then you can have a nice call with remote person to talk more clearly with feelings in words and in short time.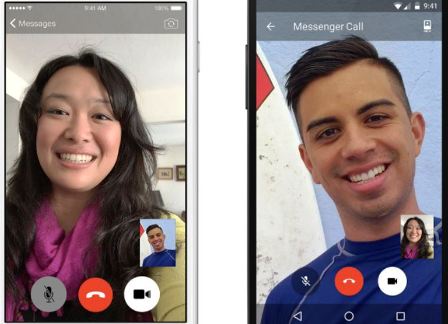 It'll help millions of people who uses the Facebook messenger on the go. Video calling is operating system independent, means you can have a video calling from iOS smartphone to Android and vice versa. Use the Facebook Video calling service for real time communication with your loved one, friends and family as well.
As per the Fb newsroom update, This is the latest feature released for Messenger, following the ability to send money to friends, the launch of Messenger Platform and the introduction of Businesses on Messenger (coming soon). iOS and Android in Belgium, Canada, Croatia, Denmark, France, Greece, Ireland, Laos, Lithuania, Mexico, Nigeria, Norway, Oman, Poland, Portugal, the UK, the US and Uruguay. It'll be rolled out soon for more regions soon.