Everybody loves to shopping at the Store and paying bills using their credit cards, reward cards, coupons etc. but technology has no end. New things are coming in market rapidly. You can also pay for your shopping using your hand palm. Here your info is in the Palm of your hand. Just Put your palm on the device and you are done with shopping.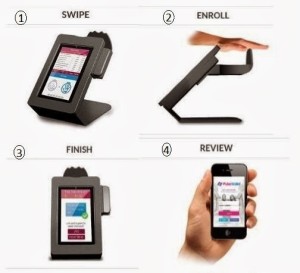 Pulsewallet allows you to scan your hand and pay for your bills and generate digital receipts. It is having All in One feature. By using Pulsewallet you can manage your credit cards, rewards, coupons in one place.
Managing Pulsewallet:
One time registration required at any PulseWallet Terminal.

Swipe card for purchase
Scan your palm for future card less payments.
Now onwards no need to swipe card. Just put your hand on the device and it allows you to select the card using which you want to pay
It generates digital receipts in your pulsewallet account, Shows you how you spending by weeks, months and compares it. You can help your friends by transferring money in between accounts. Every account is encrypted key and only you can access it.
So it is the one time registration and one time card swipe process. In future no need to carry card for shopping, So stay free from card loss and damage and feels free to shop.
Recently PulseWallet presented at las vegas consumer electronics show. Stay tuned to PulseWallet to know when it comes to your town and get more updates.
You can manage your account through PulseWallet mobile application. Pulsewallet comming soon to the GooglePlay and App Store.
So enjoy Secured Shopping with PulseWallet.