Lenovo Launched A 6000 Plus improved version of the A 6000 device in country. Company launched the A series variant with advanced specifications. Flash sale was conducted on 28th April as promised by the company. Interesting news is that the 1 lakh units of the smartphone has been sold out in just 15 minute of duration. Additionally Lenovo A7000 model also got the Marvelous response on Flash sale. We can say it as the Interest of the Brand lovers in design and Specifications.
Lenovo A 6000 Plus Device itself known as the Improved version of the smartphone but the fact is that the Android operating system is still the same as previous one A 6000. Get the Lenovo A6000 Plus Specifications in details. "Lenovo in association with Flipkart sold out 1 lakh [100,000] units of the recently launched A6000 Plus in 15 minutes", company said.
Lenovo A6000 Plus is the affordable smartphone device worth Rs. 7,499. Quick sale of the Smartphone via the Flipkart make it clear that People were interested in device lot more than the expectations. Dual sim Android device created the magic as 1 lakh units sold out in 15 minutes only.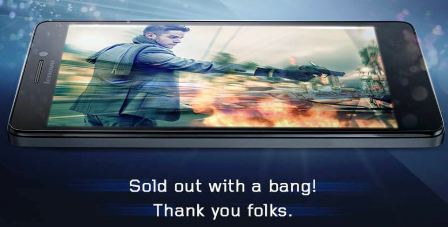 Lenovo A7000 flash sale started today 2:00 PM on Flipkart and interesting news is that the A7000 also been sold out very quickly. "Just like that, the A7000 has been sold out. Those who missed it, don't get bogged down. Register for the next SALE on Flipkart today 6 PM onwards", Company said. Lenovo A7000 priced at Rs. 8,999 in India been sold out very quickly from Flipkart Flash sale. If you want to get the Device in next sale, Go and Register for the Next sale Starts Today (29th April) 6 PM onwards.
Also See- Lenovo A 7000 Specifications