Most favorite Chinese manufacturer launched Its Mi device in the India as a Flash sale and Open sale via the Flipkart store. Due to the Limited Mi Units Xiamoi couldn't handle everyone's request and many of the fan got disappointed. Xiaomi don't want to see their fans unhappy, Company comes up with some discount on device on its 5th Birthday.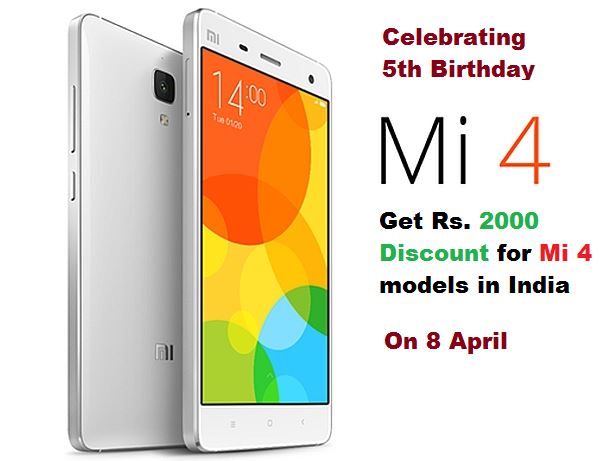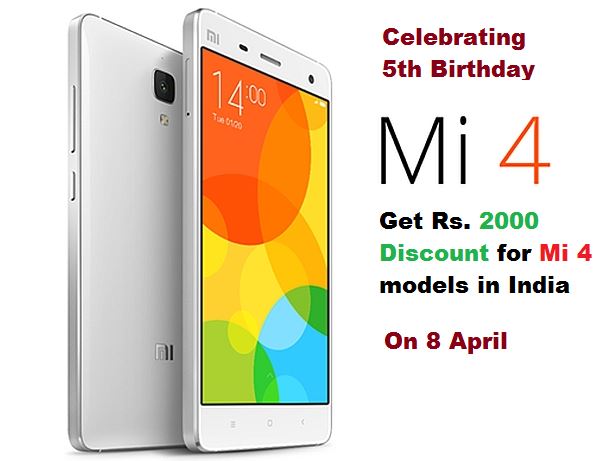 Xiaomi Founded in 6th April 2010 and Its been 5 years now. Company celebrating the birthday and comes up with Exciting offer for their fans. Recently Xiaomi Announced about the discount of Rs 2000 on Mi 4 Model (16GB @ Rs 17,999 and 64GB @ Rs. 21,999). See below what Xiaomi shared
To celebrate our 5th birthday, we are having a one-day only discount of Rs. 2000 for all our Mi 4 models (16GB @ Rs 17,999 and 64GB @ Rs. 21,999), to thank you for your support. This offer is valid from 12 noon to 12 midnight on 8 April only. – Xiaomi Mi India Said
Xiaomi also added that they are adding two more partners along with Flipkart. Yes they partnered with Snapdeal and Amazon India. Now you can purchase the Favorite Mi Products from Flipkart, Snapdeal and Amazon India and The Mobile Store and Airtel if you prefer to buy in stores.
Don't Miss – Microsoft Windows 10 ROM for Xiaomi Mi4 Devices
Mi India is the 5th Largest mobile smartphone company with 4% market share in 2014. Mi group in India also share the message through video about the Mi 4 Model discount and You can also get the Other Redmi 2 and Mi pad without registration on your favorite channel. What you are waiting for ? Get your Mi4 Discounted model before the offer ends