As the android made available to the market, reputation of the other mobiles goes down. It is because the android provides the coolest application support and through that applications mobile becomes the more smarter to perform any task in fractions of seconds on the move. Many of us hates the android phone due to the only one reason and that is the Battery Problem.
Yes Battery Problem, because if you are using the smart applications than it must consumes the more power and also we required the 24*7 internet working to use top coolest application link chat messenger, calling app, email app. blah..blah.. All that internet related application consumes more power and our battery gets dead in few hours.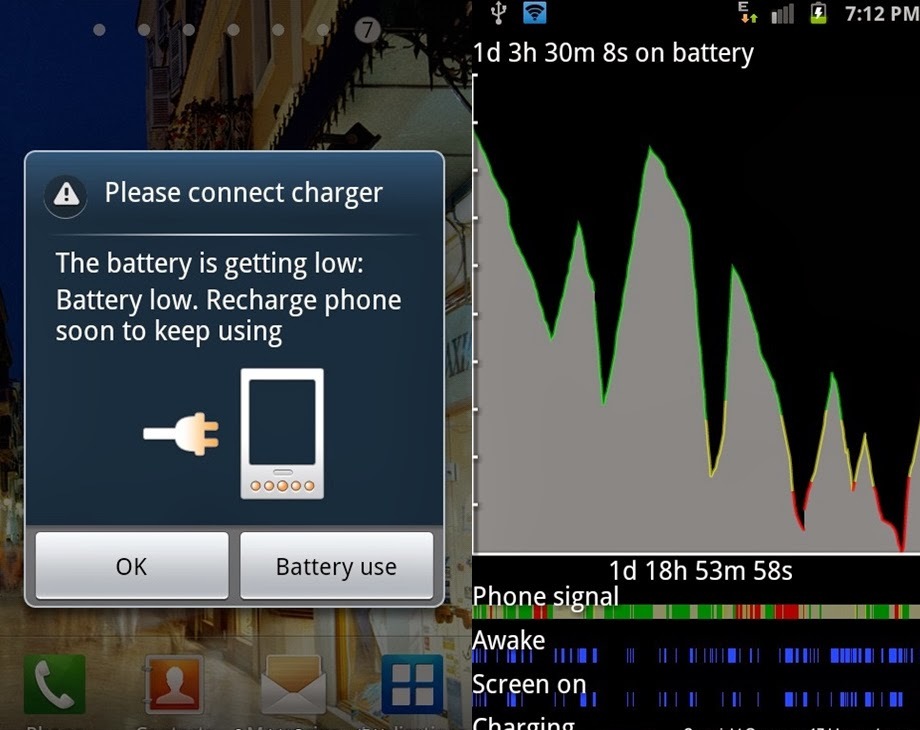 To get rid of the battery life problem you have to follow the some tips. Just go through the bellow mentioned tips and it will help you to save your android mobile battery life or it extends your mobile battery life.
Appropriate Temperature:
0-45 degree temperature is suitable for the battery charging. Much high or low temperature harm your device. Always keep your mobile in cool/normal temp and keep your mobile out of direct sunlight.
Remove case while charging:
It is recommended to remove your device cover when you are charging the mobile because it will produces the more heat which is dangerous for battery life.
Perform full cycle to charge:
Charge your mobile battery while its get bellow 15%. Charge it from 15% to 100% without pause. Please do not charge if your battery is more than 15% to 20%. Charge only when it required to charge. Perform full cycle from low to full without pause. Because interference by pause may reduce the battery life.
Consumption by Mobile Packet data:
If you do not need the internet connectivity then please turn the packet data off. If you can perform work with 2G data than please do not use 3G or 4G data because it consumes more battery power than 2G.
Disable WiFi:
Everybody gets crazy when free internet is available. Use it when you get but remember that when you don't require WiFi connection on your device then please turn your WiFi off because WiFi connection consumes much more battery power than 2G or 3G.
Disable Auto Synchronization: 
Auto synchronization is used for the Email or chat services like Google email, contacts, messenger etc and it will synchronize the data from the server of the application and gives you the notification on each update. Please turn Auto sync Off from the settings of your android device when you don't required.
Screen Timeout:
Longer Screen timeout may consumes some amount of battery and if it is unnecessary, its recommended to use it as 1 minute or shorter.
Disable Bluetooth:
Bluetooth consume a lots of battery power as the WiFi does. So its required to turn off the Bluetooth and use only when you need it.
Disable applications running in background:
Many of android users not considering the background running applications. Users just installs the lots of android applications on mobile, use it on the fly and not quitting it properly so the application still remains running in the background and consumes the much more battery power.
Its recommended to turn of the running Applications which you do not need.
For disabling it go through Settings > Applications > Running Services.
Display Brightness:
Use low screen brightness. Screen brightness consumes the much battery power. Use high screen brightness only when you required in daylight. Adjust it from the Settings > Display > Brightness.
Minimize or close mobile vibration:
Vibration feature consume the more battery power. Use only it in the extreme conditions such as class, meetings etc. Other than that keep your device in general mode or with minimum or no vibration intensity.
Disable Auto System Update:
Auto Update consumes the more battery. We don't required the systems updates feature everyday. Please turn it off so it will not go for checking the update every time when it connects to the internet.
From above mentioned points now you feels that we are limiting you to use android mobile applications but its the important factors you need to consider if you want your android device with longer battery life and by using device as mentioned above you will surely found significant change in your battery life.
Keep using android and stay tuned to us to get more. Share it to other android users and state your comment bellow.