It becomes very annoyed when unwanted ad-ware or search engine enters into our computer. Because some of the search engine creates the hidden entry in the system and it becomes more difficult to remove the unwanted homepage URL. When we open up the browser it shows us the new search engine homepage and sometimes in every tab we opened. This all are the programs came with other software installation and maintains the persistence entry in computer. So it is important to know where exactly other malicious or ad-ware resides and how to remove it permanently. Let see how to remove the http://start.qone8.com search engine homepage URL from the Browser.


1) First of all Uninstall all the suspicious programs from the Control Panel. To do so go to Uninstall a Program option inside the control panel and remove the unknown and suspicious entries.
2) Secondly check for the Add-ons (Press Alt+T) in the Browser window. And move to Add-ons option . It contains several installed extensions and plugins. Remove all the unwanted entries including search engine tool bars.
3) Thirdly Change the Browser Homepage URL (Press Alt+T, go to Options, In the General Tab, Under the startup – Change the Home page URL entry or remove the link)
After performing above steps if the problem persist means you are still getting the qone8 search engine as browser homepage then it means you are having qone8 link attached with the every browser shortcuts.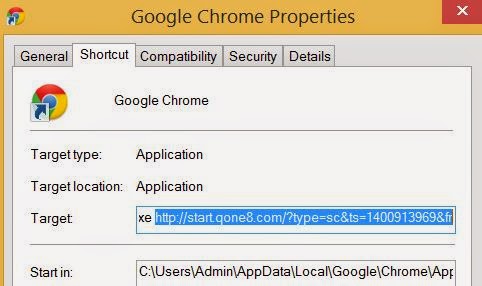 Right click the Any Browser (Mozilla, Chrome, Explorer) shortcut and go to the Properties. You'll notice the shortcut entry as a Target attached with the http://start.qone8.com/?…. Remove the Ad-ware URL highlighted above and click Apply and Ok.
You are Done with removing the Homepage entry. Thanks.