Chinese Manufacturer Xiaomi which is famous for the Mi series devices and other gadgets, already entered into the Indian market. Xiaomi launched the awesome devices in the India at very affordable price rates. Xiaomi devices are not only cheapest but with great features and specifications along with compared to the other smartphones. Xiaomi and Motorola launched the smartphones Xiaomi Redmi 2 and Moto E 2nd Generation in the India and both the devices are at affordable range of Rs. 6,999.
One surprizing matter is that the Xiaomi sold out almost 35,000 units of Redmi 2 on the flash sale via the flipkart and based on the users reviews its most promising device with perfect features inside. Motorola's Moto E 2nd generation is quite similar in specifications with Xiaomi Redmi 2. Chek the below detailed device specifications for both the trending affordable devices.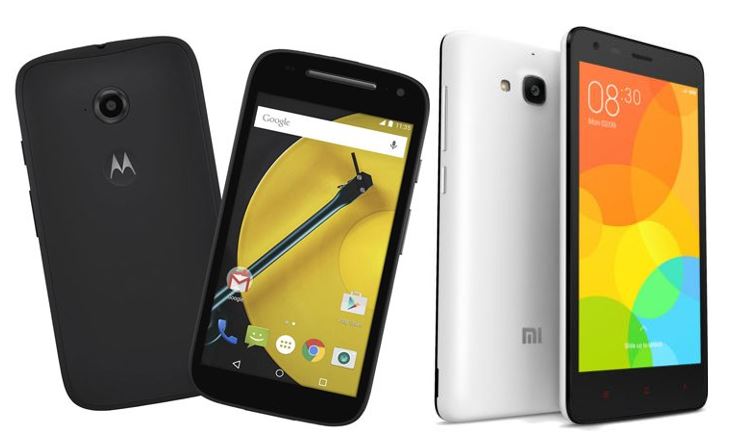 Xiaomi Redmi 2 Specifications –
Operating system – Android 4.4 with MIUI 6 interface
Processor – Snapdragon 410 64-bit quad-core 1.2-GHz
Display – 4.7″ IPS HD display
Resolution – 1280×720 HD at 312 pixels per inch (PPI)
Camera – 8MP camera f/2.2 rear and 2MP front camera records 720p HD video
weight – 133g
Battery – 2200 mAh
RAM – 1 GB
Storage – 8 GB
SIM and Network – 4G Dual SIM
Price – Rs. 6,999
Moto E 2nd Generation specifications –
Operating system – Android Lollipop C 5.0.x
Processor – Qualcomm Snapdragon processor with a 1.2 GHz quadcore CPU
Display – 4.5 inches display
Resolution – 540 x 960 pixels at 245 pixels per inch (PPI)
Camera –  5MP Rear and 0.3 MP front facing
weight – 145 g
Battery –  2390 mAh
RAM – 1 GB
Storage – 8 GB
SIM and Network – 3G Dual SIM
Price – Rs. 6,999
As per the specifications listed above one can conclude that the Xiaomi concentrated more on the Resolutions and camera. So it would be great for Photography lovers and those who wants the HD resolution at affordable rate. Moto E 2nd Generation is for those who loves to use Android lollipop and little higher capacity battery than the Xiaomi Redmi 2. Other than that all the descriptions of the both the devices are quite similar.
Don't Miss – Microsoft Windows 10 ROM for Xiaomi Mi4 Devices
Xiaomi is device for those who loves to use high end features in smartphone at affordable price rate. Users reviews of Xiaomi redmi 2 are quite good and people prefer others to purchase the same means Xiaomi created the trust in the users by giving awesome featured devices in India. Chinese manufacturer now in race with the Motorola to establish the successful business in the country. Xiaomi launched the device Redmi 2 and it created the tough competition for the Moto E 2nd gen. Moreover Xiaomi also started selling the smartphones accessories via own store online.