Mainly using two ways you can upgrade your Samsung Android mobile phone. Using Online upgrade with Kies or Using Offline flash with Odin. Here i am showing you the second method of offline flash format or upgrade. Follow the instructions for Android Mobile Firmware update guide
Use Odin if you have broken upgradation on your mobile through kies upgrade. Odin let you allows to upgrade Phone by repartitioning from the kernel.
I have Upgraded the Samsung Galaxy S I9000 phone offline by below method.
Note: We are not responsible for any damage of your phone by doing this.
For that you need the Odin. Get it from Here.
After you download, open it and run Odin as administrator. It will asks you for the files like PIT, PDA, Phone, CSC etc.
Download all those files From Samfirmware by typing the model name in the search box. If you are searching for Galaxy S I9000, type "I9000" in search box and select based on country/carrier to download. You can also download it from Samsung-Updates.
In the Odin box select the downloaded files as mentioned below.
PIT- Select the Pit file
PDA- Select the CODE file
Phone- Select the Modem File
CSC- Select the CSC file
Put your mobile on download mode by pressing 3 keys simultaneously.
1. Power button
2. Volume Down button
3. Home button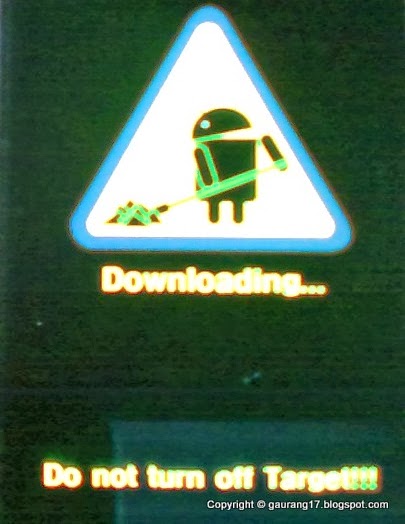 By doing this your mobile turn into downloading mode as shown in Image.
Now connect your phone with USB and make sure it will shows the ID:COM box yellow color. If its not showing yellow box, You might have the driver problems or your phone drivers are not installed properly so, download and install it first. If it installed correctly you can try with the Latest Version of Odin.
After that Hit start button and it will start progressing and Completed in few minutes. After that your phone rebooted automatically and it'll take some time (5-7 minutes) as it starts up for first time. Now enjoy the new upgraded phone.
state your views for Android Mobile Firmware update guide by commenting below.