Candy Crush Saga is the first puzzle game by the King and it gone viral on the Internet. As it was released people started playing game and Facebook news feed become full of requests and invitations on the game. King Launched Saga sequel Candy Crush Soda Saga game just few days back and today the game become the Number one game in Both Android Playstore and Apple Appstore. This addictive game become the leading Free game for Android and iOS devices. Candy crush saga is the second leading popular game by king.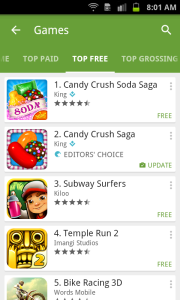 King Posted the 15-second Video of Candy Crush Soda Saga game on Facebook through Facebook Advertising System and it reached 100 million people across seven countries in its first day, Facebook and King said. and this all happens with Facebook Mobile marketing. The reason of this game success is the strategy used by the developers to get more friends is "Ask your friend to get life to unlock the level and users get notified by notification. Also when player achieve the new higher score compare to their friend then it'll also notified in the Facebook news-feed." So more and more people gets started by following others and the beauty of the Game is its nicely designed interesting puzzle game and everyone have competition with friends on Facebook which makes the user more addictive.
The funda of Game is to request your Facebook friend to get life which allows you to continue play with the next stage. People loved more as it allows to track how their friends playing and at which level they are playing. Game became more and more addictive day by day. One more news is that King Come with just another game named Candy Crush Soda Saga which makes the game more interesting.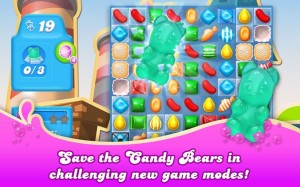 As we looks inside Saga history, King's Candy crush saga is launched first for the Facebook Website in April 2012 and then after viewing more players interest King made it available to the Mobile Android and iOS users in November 2012. Meanwhile Other products by king named Bubble Witch Saga and Pet Rescue Saga launched but Candy crush saga is the leading revenue generator game for King. The Sequel game Candy Crush Soda Saga is now at new hike and most downloaded Free Game Application by Android and iOS users.
Download the Candy Crush Soda Saga from Android or Appstore and crush the candies with soda.
Enjoy !