There are bunch of Android applications and New applications coming out everyday on the Market place. Its sometimes becomes harder to remember all the Android Application names and if your family member or friends buy new android device and come to you and ask that I am new to Android and give me the Applications name which i must have. You tell them some of the names which you found helpful to them and he/she able to remember only few of them and come back again and ask same question again. So its better to create the Handy list of the Installed Android applications and share with your friends and family member who are new to Android or got new Device.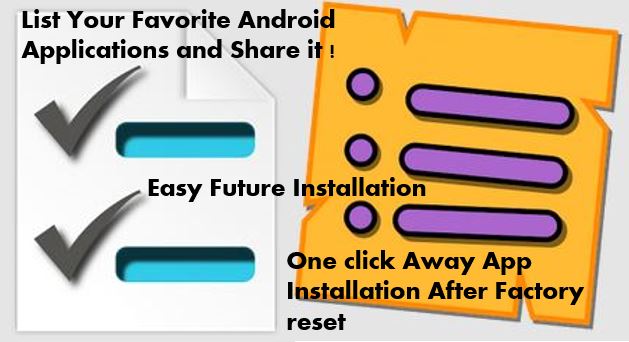 "List My Apps" , creation of Onyxbits, Makes it possible by creating the Application list on the Move. Its easy to use application which allows to create the Links of the Installed application with Plain text, HTML list, BBCode list and Markdown list for Reddit as well. You can give them the Google Play store link along with the App Name so it would become easier for newbies to install all the application in one click from official store. You can also make annotations to the List for better application understand for others and share or Email within the Phone and you can Share with Whatsapp, Facebook or other IM apps. Download List My Apps for your Smart device.
Another Application Named "My App List", created by ProjectsException team, helps you to create the List of Installed applications in a XML format. Suppose you want to factory restore the phone or upgrade the device with favorite ROM then First make the list of installed application in the sdcard and then upgrade or factory reset the device. Install the "My App List" and load the XML file you saved earlier and install the Applications from the List. You can also share the List with your friends and families in HTML, XML and Text formats. It is the useful application to make the fresh application installation and Interface is Holo Theme from ICS and there is no root needed to use it. Download My App List from official Android store.
Hope you would find This applications helpful to make a list of your favorite Android Applications.